UPGRADE bevat maar liefst 11 actieve ingrediënten per schep, waaronder 6 gram Citrulinemalaat, vegan BCAA's, Beta Alanine en Taurine. Merk het verschil.
Regular price
$33.00 USD
Sale price
$33.00 USD
Unit price
per
Sale
Sold out
Gratis sample

Bij elke bestelling ontvang je een gratis sample. Selecteer vóór het afrekenen, in je winkelwagen, een gratis sample naar keuze.
Beschrijving

UPGRADE is een plantaardige, stimulantvrije pre workout drink, die bijdraagt aan het leveren van kracht en energie aan je spieren. Of je nou traint voor een lange duurloop of juist voor momenten van korte inspanning met maximale kracht, je spieren hebben energie nodig. Dus.. een pre workout drink zonder stimulansen, wat zit er dan wel in? Met de toevoeging van Citrulinemalaat, Beta-Alanine, Taurine en L-Norvaline haal je de energie uit jezelf.

Citrulinemalaat versterkt de productie van stikstofoxide en verplaatst ongewenst ammoniak, hierdoor wordt spiervermoeidheid verminderd. Het verhoogt je aerobe metabolisme zodat je spieren meer zuurstof ontvangen om langer energie te leveren.

Beta-Alanine verhoogt de carnosine-productie. Carnosine zorgt voor een goede functie van je hartspier en hersenfuncties en remt de veroudering van je cellen. Het bindt het melkzuur in je spieren bij hoge inspanning en stelt verzuring, kramp en spierpijn uit.

Taurine is van belang voor het goed functioneren van zenuwweefsel en de spieren. Taurine beschermt je zenuw-, spier- en neurotransmitter cellen.

L-Norvaline remt de arginase-activiteit af. Hierdoor ondervind je geen vertraging in de productie van stikstofmonoxide, dit betekent dat er meer zuurstof, energie en volume naar je spiercellen gaat.
Ingredients

L-Citrulline-malaat, Beta-alanine, Vegan iBCAA (2.1.1) (L-Leucine, L-Isoleucine, L-Valine), Betaine HCl, Taurine, cholinebitartraat, antiklontermiddel: kiezelzuur (wordt gewonnen uit de natuur), aminozuren:

N-Acetyl, L-tyrosine, natriumchloride, citroenzuur, zoetstoffen: sucralose, natuurlijke kleurstoffen: bètacaroteen, L-Norvaline, AstraGinTM

Voedingswaarden per portie (21 gram): Energie 263 kJ/63 kcal; Vetten 0,0 g; Waarvan verzadigd 0,0 g; Koolhydraten 0,7 g; Waarvan suikers 0,1 g; Vezels 0,1 g; Eiwitten 15,0 g; Zout 0,3 g.

Voedingswaarden per 100 gram: Energie 1216 kJ/291 kcal; Vetten 0,0 g; Waarvan verzadigd 0,0 g; Koolhydraten 3,3 g; Waarvan suikers 0,2 g; Vezels 0,3 g; Eiwitten 69,2 g; Zout 1,5 g.

Samenstelling per portie: L-Citrulinemalaat 6000 mg; Beta-Alanine 4000 mg; Vegan iBCAA 4000 mg; Betaïne HCL 2500 mg; Taurine 1300 mg; Choline Bitraat 800 mg; N-Acetyl L-Tyrosine 600 mg; L-Norvaline 60 mg; Astragin 50 mg.
Hoe gebruik je mij?

Mix vóór het sporten 1 of 2 scheppen UPGRADE met 300ml water voor de beste resultaten.
Shipping & Returns

Bestellingen die op werkdagen vóór 18:00 worden gedaan, proberen wij dezelfde dag nog te verzenden.

De vermelde prijzen zijn exclusief verzendkosten. De verzendkosten bedragen:
€ 6,95 voor bestellingen onder de € 50,-
Gratis voor bestellingen vanaf € 50,-

Levering verloopt via de postbode of pakketbezorger van PostNL. Over het algemeen zal de aflevering de eerstvolgende werkdag tussen 9:00 en 18:00 plaatsvinden. Helaas kunnen wij het moment van aflevering niet garanderen.

We vervangen alleen defecte of beschadigde artikelen. Als je een artikel wilt ruilen tegen hetzelfde artikel, stuur dan een e-mail naar info@greenfuel.shop en stuur het artikel naar Parallelweg 128 A-11, Beverwijk, Noord Holland, 1948NN, Nederland.
View full details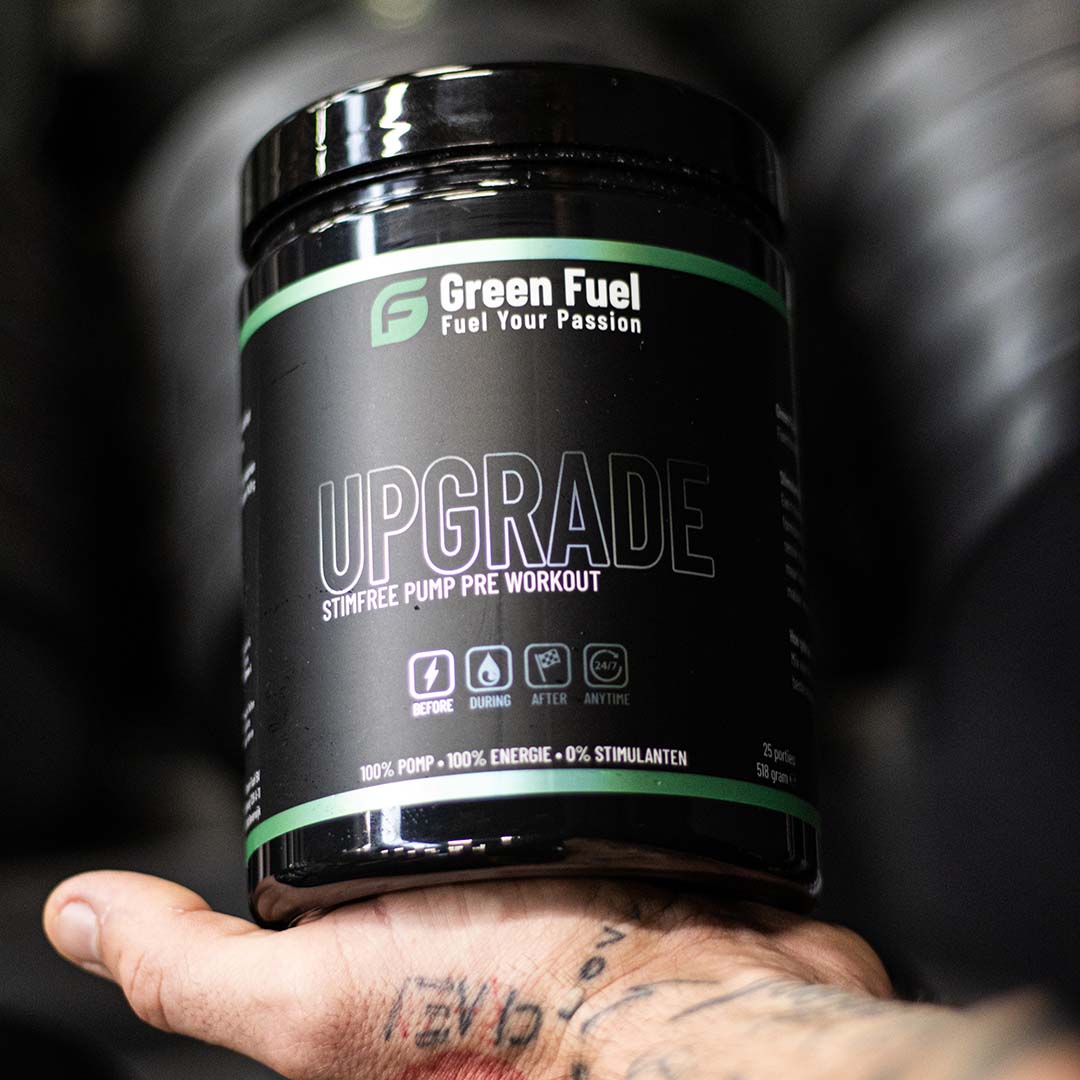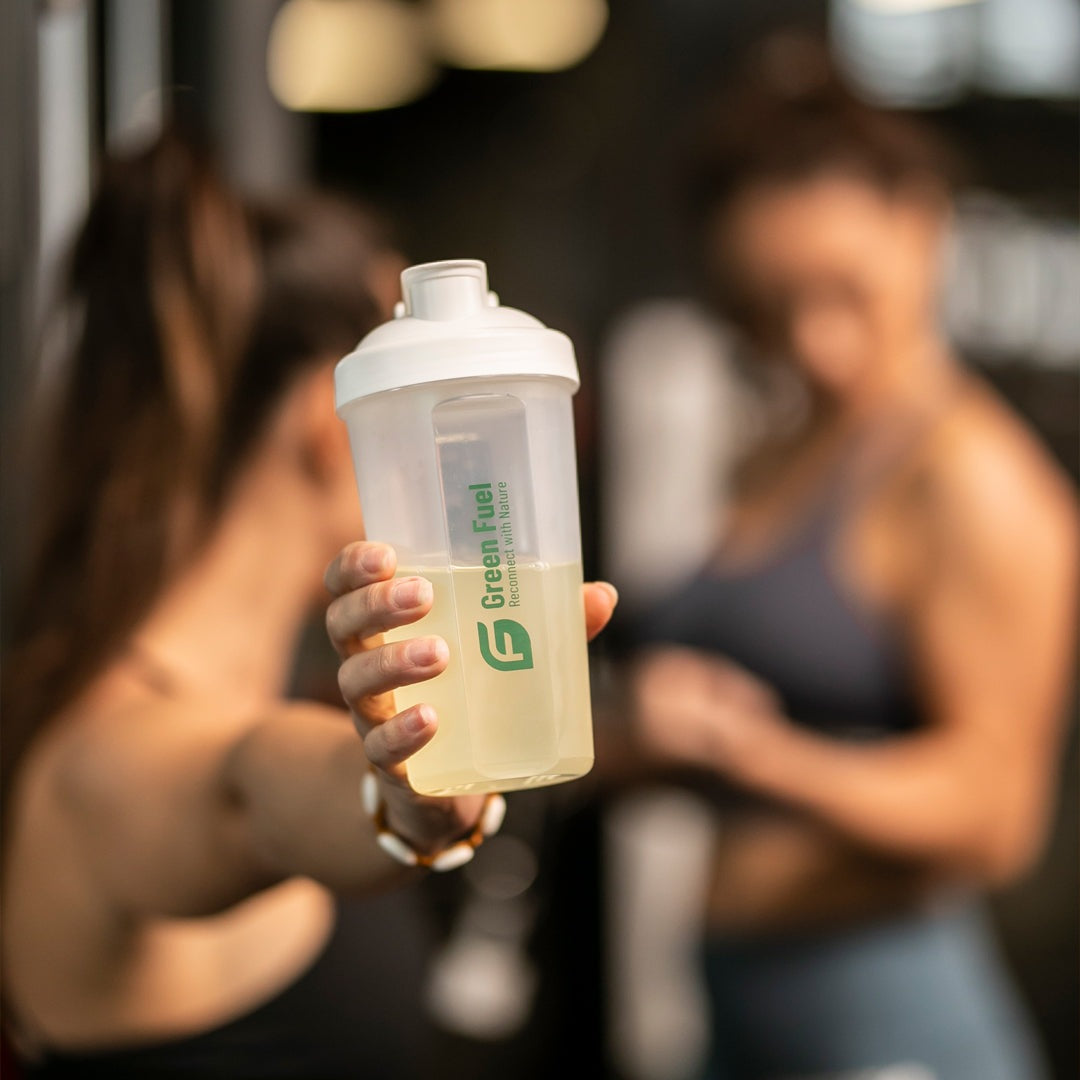 0% stimulanten, 100% energie
Ervaar de lusten, niet de lasten met een stimm-free pre workout. 11 actieve ingrediënten die je lichaam voorzien van energie. Meer weten? Check de blogs!
Meer weten
Veelgestelde vragen
Waarom een stimulantvrije pre-workout?

Onze stimulant vrije pre-workout is ontworpen om de fysieke prestaties tijdens het sporten te verbeteren zonder de nadelen van stimulerende middelen zoals cafeïne of andere energizers te ervaren. In plaats daarvan bevatten ze aminozuren zoals citrulline en beta-alanine, nitraten, en vitamines om de energie, kracht en uithoudingsvermogen te ondersteunen.
Voor wie is de stimulantvrije pre-workout?

Mensen die gevoelig zijn voor stimulerende middelen, zoals cafeïne, of die 's avonds sporten en daardoor hun slaap willen beschermen, kunnen baat hebben bij stimulans vrije pre-workout supplementen.
Biedt de stimulantvrije preworkout dezelfde voordelen als stimulerende pre-workouts?

Ja, de stimulantvrije pre workout biedt dezelfde voordelen als een pre workout met stimulerende middelen, maar zonder de bijwerkingen van stimulerende middelen; de crash/dip.
Kunnen stimulans vrije pre-workout supplementen worden gecombineerd met andere supplementen?

Ja, stimulans vrije pre-workout supplementen kunnen worden gecombineerd met andere supplementen, zoals eiwitshakes, BCAA's en vitamines, om de training te verbeteren en het herstel te ondersteunen.
Maak jouw routine compleet...
Regular price

Sale price

$42.00 USD

Unit price

per

Regular price

Sale price

$37.00 USD

Unit price

per

Regular price

$33.00 USD

Sale price

$33.00 USD

Unit price

per

Regular price

$33.00 USD

Sale price

$33.00 USD

Unit price

per

Regular price

$28.00 USD

Sale price

$22.00 USD

Unit price

per

Regular price

Sale price

$17.00 USD

Unit price

per

Regular price

Sale price

$44.00 USD

Unit price

per

Regular price

$28.00 USD

Sale price

$22.00 USD

Unit price

per

Regular price

$17.00 USD

Sale price

$17.00 USD

Unit price

per

Regular price

$11.00 USD

Sale price

$11.00 USD

Unit price

per

Regular price

$3.00 USD

Sale price

$3.00 USD

Unit price

per