Maak kennis met onze vegan protein en whey isolaat. Ontdek welk product en welke smaken het beste bij jou passen.
In dit pakket zitten 6 single porties; 3 smaken die je 2x kunt uitproberen.
Regular price
$17.00 USD
Sale price
$17.00 USD
Unit price
per
Sale
Sold out
Gratis sample

Bij elke bestelling ontvang je een gratis sample. Selecteer vóór het afrekenen, in je winkelwagen, een gratis sample naar keuze.
Beschrijving

Kennis maken met onze plantaardige eiwitshakes? Bestel gemakkelijk 6 enkele porties – in 2 smaken – en ontvang onze recyclebare shakebeker om mee te genieten.
Ingredients

Ingrediënten
Erwten eiwit, bruine rijst eiwit, biologisch kokosmelk poeder, biologisch mager cacaopoeder (Chocolade), verdikkingsmiddel: xanthaangom, natuurlijk vanille-aroma (Vanille), zoetstof: sucralose, steviaglycosiden (gewonnen uit de steviaplant).

Voedingswaarden per portie (30 gram)
Energie 522 kJ/125 kcal; Vetten 3,5 g; Waarvan verzadigd 1,6 g; Koolhydraten 1,7 g; Waarvan suikers 0,6 g; Vezels 1,1 g; Eiwitten 23 g; Zout 0,6 g.

Voedingswaarden per 100 gram
Energie 1739 kJ/416 kcal; Vetten 11,7 g; Waarvan verzadigd 5,2 g; Koolhydraten 5,7 g; Waarvan suikers 2,0 g; Vezels 3,6 g; Eiwitten 76,2 g; Zout 2,0 g.

Aminozuurprofiel per 100 gram
Alanine 3,4 g; Arginine 6,8 g; Asparaginezuur 8,5 g; Cysteine 1,3 g; Glutaminezuur 13,4; Glycine 3 g; Histidine 2,0 g; Isoleucine 3,9 g; Leucine 6,8 g; Lysine 5,4g; Methionine 1,0 g; Fenylaline 4,4 g; Proline 3,3 g; Serine 3,8 g; Threonine 2,8g; Tryptofaan 0,5 g; Tyrosine 3,2 g; Valine 4,2 g.
Hoe gebruik je mij?

Protein
Neem naast je dagelijkse voeding 1 tot 3 keer per dag één schep RECOVER met 300ml water of jouw favoriete (plantaardige) melk.

BCAA
Neem naast je dagelijkse voeding 1 tot 3 keer per dag één schep CHARGE met 300ml water. Lekker voor tijdens én na het sporten.

Pre Workout
Mix vóór het sporten 1 of 2 scheppen UPGRADE met 300ml water voor de beste resultaten.
Shipping & Returns

Bestellingen die op werkdagen vóór 18:00 worden gedaan, proberen wij dezelfde dag nog te verzenden.

De vermelde prijzen zijn exclusief verzendkosten. De verzendkosten bedragen:
€ 6,95 voor bestellingen onder de € 50,-
Gratis voor bestellingen vanaf € 50,-

Levering verloopt via de postbode of pakketbezorger van PostNL. Over het algemeen zal de aflevering de eerstvolgende werkdag tussen 9:00 en 18:00 plaatsvinden. Helaas kunnen wij het moment van aflevering niet garanderen.

We vervangen alleen defecte of beschadigde artikelen. Als je een artikel wilt ruilen tegen hetzelfde artikel, stuur dan een e-mail naar info@greenfuel.shop en stuur het artikel naar Parallelweg 128 A-11, Beverwijk, Noord Holland, 1948NN, Nederland.
View full details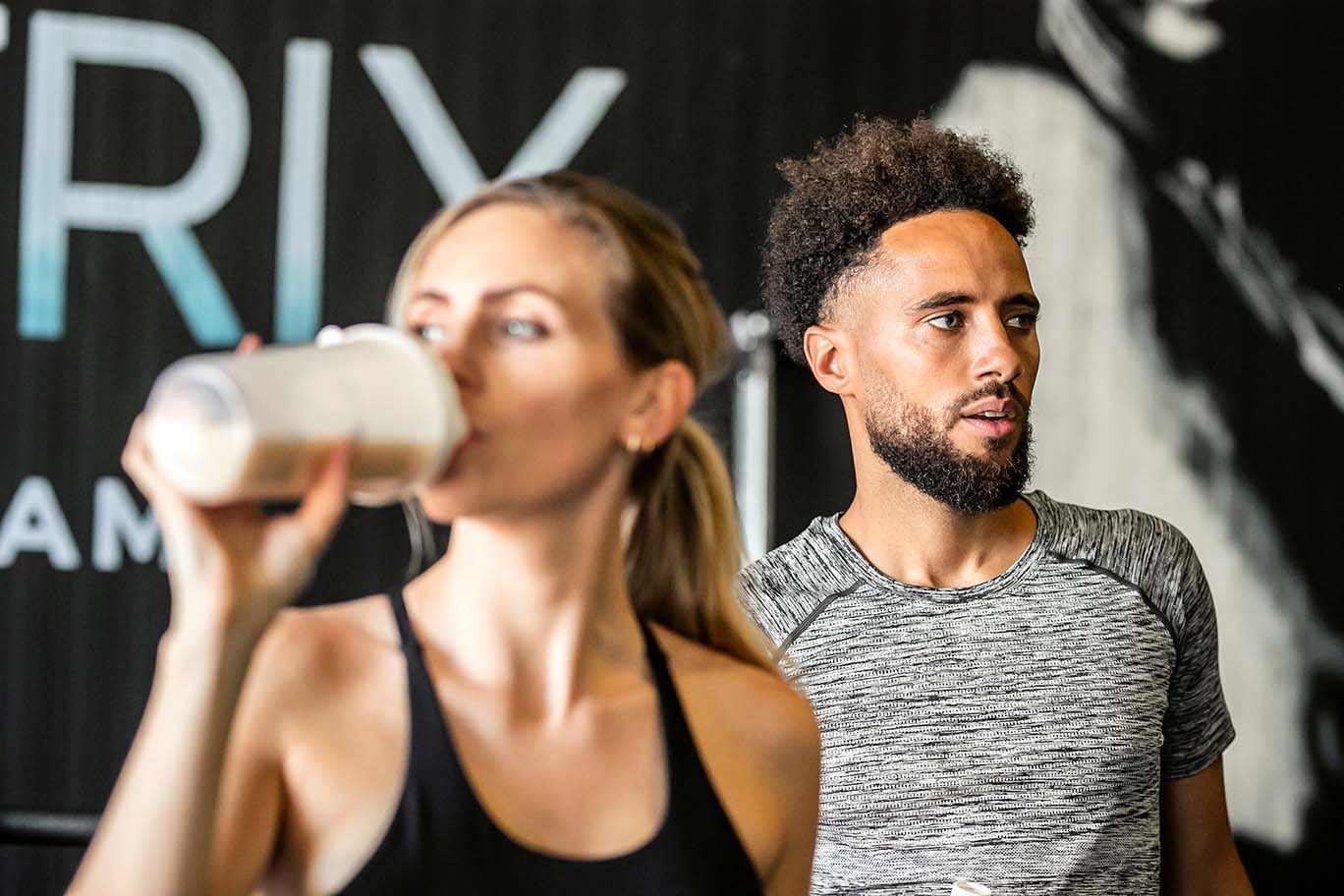 Meer dan een proteinshake
Eiwitrijke smoothies, proteinbars en zelfs taarten. Ontdek de vele mogelijkheden die je hebt met ons vegan proteinpoeder.
Meer weten
Veelgestelde vragen
Welke samples ontvang ik precies?

Je 6 Whey Isolates ontvangen in 3 smaken: Cappuccino, Pistache en Vanille.
Waarom Whey Isolaat?

Whey Isolaat is een populair eiwitsupplement vanwege verschillende voordelen:

Hoog Eiwitgehalte: Whey Isolaat bevat meer dan 90% eiwit per portie, wat het tot een uitstekende bron van hoogwaardige eiwitten maakt.

Snelle Absorptie: Het wordt snel door het lichaam opgenomen, waardoor de aminozuren snel beschikbaar zijn voor spierherstel en -groei na de training.

Laag in Vet en Koolhydraten: Whey Isolaat ondergaat een extra filtratieproces om het vet- en koolhydraatgehalte te minimaliseren, wat het een goede keuze maakt voor mensen die streven naar een eiwitrijk dieet met weinig toegevoegde calorieën.

Rijk aan BCAA's: Het bevat een hoog gehalte aan vertakte aminozuren (BCAA's), zoals leucine, die cruciaal zijn voor het bevorderen van spierherstel en -groei.

Ondersteunt Spiergroei en Herstel: Dankzij de snelle opname en het rijke aminozuurprofiel is Whey Isolaat uitstekend geschikt voor het bevorderen van spierherstel na trainingen en het stimuleren van spiergroei.

Geschikt voor Gewichtsbeheer: Vanwege de hoge eiwitdichtheid en het lage caloriegehalte kan Whey Isolaat helpen bij het behouden van spiermassa tijdens gewichtsverlies.

Goed Verdraagbaar: Het bevat over het algemeen weinig lactose, waardoor het geschikt is voor mensen met een lichte lactose-intolerantie.

Immuunondersteuning: Whey Isolaat bevat immunoglobuline, wat het immuunsysteem kan ondersteunen.
Hoeveel eiwitten heb ik per dag nodig?

De aanbevolen dagelijkse hoeveelheid eiwitten voor volwassenen is ongeveer 0,8-1,2 gram eiwit per kilogram lichaamsgewicht. Voor actieve mensen of mensen die bezig zijn met krachttraining kan het nodig zijn om meer eiwitten te consumeren, tot wel 1,4-2 gram per kilogram lichaamsgewicht. Dit kan echter variëren afhankelijk van individuele factoren zoals leeftijd, geslacht en trainingsdoelen.
Is Whey Isolate geschikt voor mensen met lactose-intolerantie?

Whey Isolate bevat over het algemeen zeer weinig lactose. Dit maakt het vaak goed verdraagbaar voor mensen met een lactose-intolerantie. Echter, als je extreem gevoelig bent voor lactose, is het raadzaam om een lactosevrij product te kiezen, zoals onze vegan protein.
Maak jouw routine compleet...
Regular price

Sale price

$42.00 USD

Unit price

per

Regular price

Sale price

$37.00 USD

Unit price

per

Regular price

$33.00 USD

Sale price

$33.00 USD

Unit price

per

Regular price

$33.00 USD

Sale price

$33.00 USD

Unit price

per

Regular price

$28.00 USD

Sale price

$22.00 USD

Unit price

per

Regular price

Sale price

$17.00 USD

Unit price

per

Regular price

Sale price

$44.00 USD

Unit price

per

Regular price

$28.00 USD

Sale price

$22.00 USD

Unit price

per

Regular price

$17.00 USD

Sale price

$17.00 USD

Unit price

per

Regular price

$11.00 USD

Sale price

$11.00 USD

Unit price

per

Regular price

$3.00 USD

Sale price

$3.00 USD

Unit price

per