Micronized Creatine 100% Monohydraat
Regular price
$28.00 USD
Sale price
$22.00 USD
Unit price
per
Sale
Sold out
Gratis sample

Bij elke bestelling ontvang je een gratis sample. Selecteer vóór het afrekenen, in je winkelwagen, een gratis sample naar keuze.
Beschrijving

De zuiverste creatine monohydraat verkrijgbaar om jouw fysieke prestaties, spierkracht en spiermassa te verhogen.
300 gram is goed voor minimaal 60 porties.

Creatine is een voedingssupplement, maar ook een lichaamseigen stof die voorkomt in de spieren. Het is een tussenproduct in de energievoorziening van spier- en zenuwcellen. Je lichaam maakt het dus zelf aan en beschikt over een voorraadje. Je kunt deze voorraad aanvullen en verhogen middels voeding of als voedingssupplement.

Creatine is het meest onderzochte sportsupplement op de markt. Het is aangetoond dat het de fysieke prestaties verbetert en het verhoogt spierkracht en spiermassa. Het is vooral populair onder gym fanaten, powerlifters, crossfitters en hardlopers.
Ingredients

Ingrediënten
Creatine Monohydraat

Voedingswaarden per portie (5 gram)
Energie 82,8 kJ/19,8 kcal; Vetten 0,0 g; Waarvan verzadigd 0,0 g; Koolhydraten 0 g; Waarvan suikers 0 g; Vezels 0 g; Eiwitten 4,95 g; Zout 0 g.
Hoe gebruik je mij?

Neem dagelijks naast je voeding 1 schep (5 gram) CREATINE tijdens een maaltijd.

Gebruik je CREATINE voor het eerst? start dan met een 7-daagse "laadfase" van 2 scheppen (10 gram) per dag, verspreid over 2 momenten.
Shipping & Returns

Bestellingen die op werkdagen vóór 18:00 worden gedaan, proberen wij dezelfde dag nog te verzenden.

De vermelde prijzen zijn exclusief verzendkosten. De verzendkosten bedragen:
€ 6,95 voor bestellingen onder de € 50,-
Gratis voor bestellingen vanaf € 50,-

Levering verloopt via de postbode of pakketbezorger van PostNL. Over het algemeen zal de aflevering de eerstvolgende werkdag tussen 9:00 en 18:00 plaatsvinden. Helaas kunnen wij het moment van aflevering niet garanderen.

We vervangen alleen defecte of beschadigde artikelen. Als je een artikel wilt ruilen tegen hetzelfde artikel, stuur dan een e-mail naar info@greenfuel.shop en stuur het artikel naar Parallelweg 128 A-11, Beverwijk, Noord Holland, 1948NN, Nederland.
View full details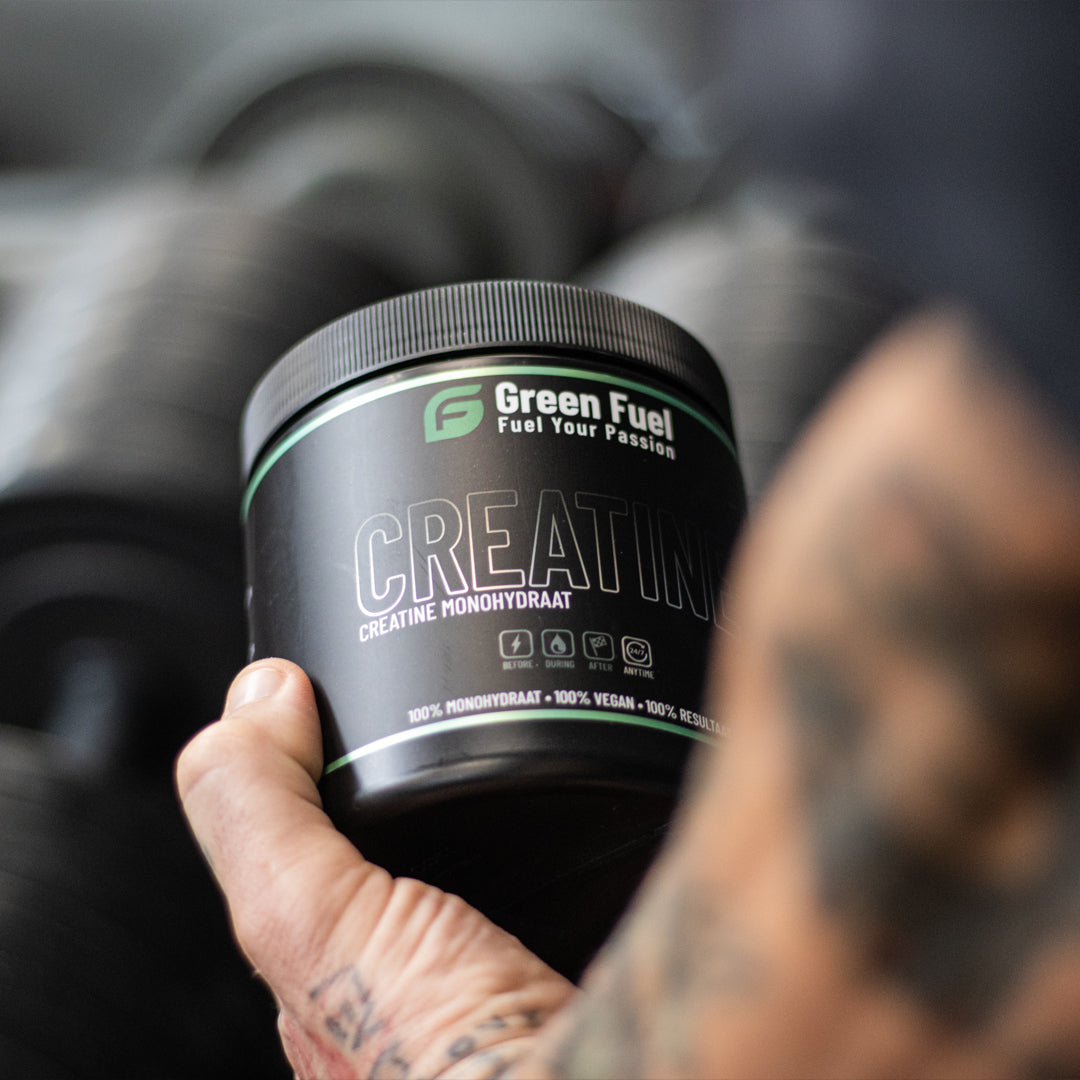 Het meest onderzochte supplement ter wereld
Waar is creatine allemaal goed voor, hoe gebruik je het en waarom is het iets voor jou?
Check de blogs...
Meer weten
Veelgestelde vragen
Wat is creatine en hoe werkt het?

Creatine is een stof die van nature in ons lichaam voorkomt en betrokken is bij de energieproductie van spieren. Het wordt meestal in de lever, alvleesklier en nieren aangemaakt en vervolgens naar de spieren getransporteerd. Door creatinesuppletie kan de hoeveelheid creatine in het lichaam toenemen en kan het helpen om de prestaties tijdens intensieve training te verbeteren.
Wat zijn de voordelen van het gebruik van creatine?

Het gebruik van creatine kan verschillende voordelen bieden, waaronder een verbeterde spierkracht en -vermogen, verhoogde spiermassa en verbeterde prestaties bij korte, krachtige inspanningen zoals sprinten en gewichtheffen. Daarnaast kan het ook helpen om vermoeidheid te verminderen en de tijd tot spiervermoeidheid te verlengen, waardoor het mogelijk wordt om harder en langer te trainen.
Zijn er bijwerkingen of risico's verbonden aan het gebruik van creatine?

Hoewel creatine over het algemeen als veilig wordt beschouwd bij gebruik volgens de aanbevolen doseringen, kunnen sommige mensen bijwerkingen ervaren zoals maagklachten, diarree en spierkrampen.
Hoe moet ik creatine gebruiken en welke dosering is veilig en effectief?

De meest gebruikte vorm van creatine is creatine monohydraat, dat in poedervorm verkrijgbaar is en kan worden gemengd met water of sap. Een veelgebruikt protocol is om de eerste week een oplaadfase van 10 gram per dag te nemen (verspreid over 2 porties van 5 gram), gevolgd door een onderhoudsdosis van 3-5 gram per dag. Het is belangrijk om voldoende water te drinken bij het gebruik van creatine om uitdroging te voorkomen.
Maak jouw routine compleet...
Regular price

Sale price

$42.00 USD

Unit price

per

Regular price

Sale price

$37.00 USD

Unit price

per

Regular price

$33.00 USD

Sale price

$33.00 USD

Unit price

per

Regular price

$33.00 USD

Sale price

$33.00 USD

Unit price

per

Regular price

$28.00 USD

Sale price

$22.00 USD

Unit price

per

Regular price

Sale price

$17.00 USD

Unit price

per

Regular price

Sale price

$44.00 USD

Unit price

per

Regular price

$28.00 USD

Sale price

$22.00 USD

Unit price

per

Regular price

$17.00 USD

Sale price

$17.00 USD

Unit price

per

Regular price

$11.00 USD

Sale price

$11.00 USD

Unit price

per

Regular price

$3.00 USD

Sale price

$3.00 USD

Unit price

per