Mag+ biedt optimale opname met 160 mg Magnesium Bisglycinaat en 90 mg Magnesium Citraat per dosering. 100% Vegan en verrijkt met Taurine, Vitamine B6 en Vitamine D3 voor een complete ondersteuning, ideaal voor iedere levensstijl. 
Regular price
Sale price
$20.00 USD
Unit price
per
Sale
Sold out
Gratis sample

Bij elke bestelling ontvang je een gratis sample. Selecteer vóór het afrekenen, in je winkelwagen, een gratis sample naar keuze.
Beschrijving

Vegan Mag+ Tabletten: Een krachtige mix voor een gebalanceerd leven. Elke tablet biedt een unieke combinatie van 160 mg magnesium bisglycinaat, 90 mg magnesium citraat, 180 mg taurine, en verrijkt met vitamine B6 en D3.

Magnesium in zijn beste vormen, rechtstreeks uit de natuur. Mag+ is ontwikkeld om je lichaam te ondersteunen bij meer dan 300 essentiële processen. Het draagt bij aan een gezond energieniveau, een goed functionerend zenuwstelsel en een gebalanceerde gemoedstoestand, terwijl het je botten en spieren versterkt.

Terwijl vette vis en vlees bekend staan als belangrijke bronnen van magnesium, hebben wij een volledig plantaardig alternatief gecreëerd. Onze Mag+ tabletten bevatten per dosering 160 mg magnesium bisglycinaat, 90 mg magnesium citraat, 180 mg taurine, en vitamine B6 en D3.

"Adopt the pace of nature: her secret is patience." - Ralph Waldo Emerson
Ingredients

Magnesium bisglycinaat, magnesium citraat, L-Taurine, pyridoxal 5-fosfaat (Vitamine B6), cholecalciferol (Vitamine D3), microkristallijne cellulose, losmiddelen (magnesium staeraat, sillicumdioxide, raapzaadolie), hypromellose.
Hoe gebruik je mij?

Voor de beste resultaten raden we aan om dagelijks 2 tabletten Mag+ bij een maaltijd in te nemen. Dit bevordert de opname van magnesium in je lichaam. Houd je aan de aanbevolen dosering op de verpakking of volg het advies van je zorgverlener op.
Shipping & Returns

Bestellingen die op werkdagen vóór 18:00 worden gedaan, proberen wij dezelfde dag nog te verzenden.

De vermelde prijzen zijn exclusief verzendkosten. De verzendkosten bedragen:
€ 6,95 voor bestellingen onder de € 50,-
Gratis voor bestellingen vanaf € 50,-

Levering verloopt via de postbode of pakketbezorger van PostNL. Over het algemeen zal de aflevering de eerstvolgende werkdag tussen 9:00 en 18:00 plaatsvinden. Helaas kunnen wij het moment van aflevering niet garanderen.

We vervangen alleen defecte of beschadigde artikelen. Als je een artikel wilt ruilen tegen hetzelfde artikel, stuur dan een e-mail naar info@greenfuel.shop en stuur het artikel naar Parallelweg 128 A-11, Beverwijk, Noord Holland, 1948NN, Nederland.
View full details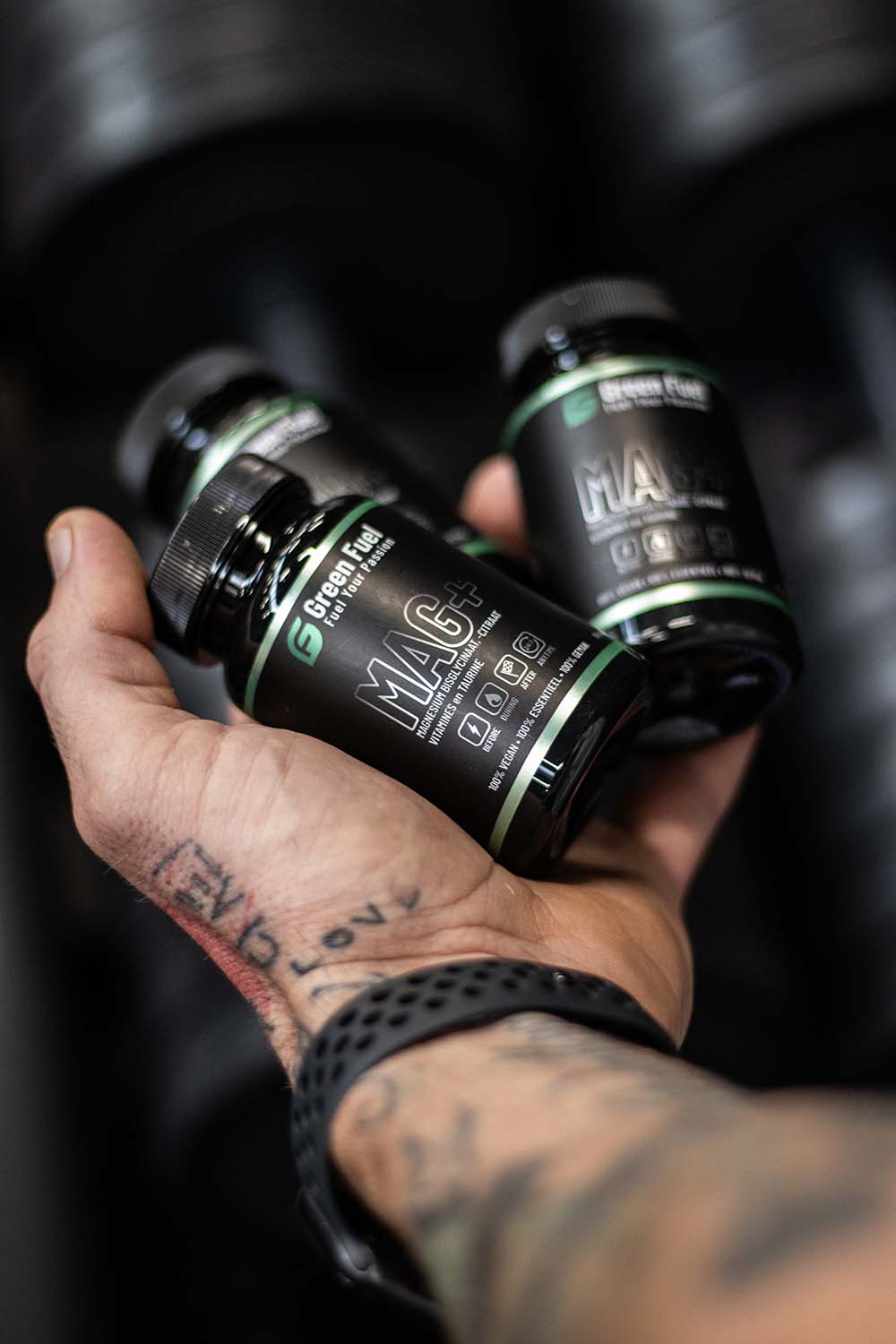 De Impact van Magnesium
Waarom en wanneer kun je een Magnesium supplement gebruiken? Alles wat je wilt weten lees je hier...
Meer weten
Veelgestelde vragen
Wat maakt Mag+ anders dan andere magnesiumsupplementen?

Mag+ onderscheidt zich door zijn unieke combinatie van magnesium bisglycinaat en citraat, verrijkt met L-taurine, vitamine B6 en D3. Deze synergetische formule zorgt voor een optimale opname en ondersteunt een breed scala aan gezondheidsvoordelen.
Waarom is magnesium belangrijk voor ons lichaam?

Magnesium is een essentieel mineraal dat betrokken is bij meer dan 300 lichamelijke processen. Het speelt een cruciale rol bij het energieniveau, het functioneren van het zenuwstelsel, de gemoedstoestand en het behoud van sterke botten en spieren.
Wat zijn de symptomen van een magnesiumtekort?

Een magnesiumtekort kan zich uiten in symptomen zoals spierkrampen, vermoeidheid, prikkelbaarheid, slaapproblemen en een verminderde weerstand. Het is belangrijk om een gezond magnesiumniveau te behouden voor een optimaal functionerend lichaam.
Is Mag+ geschikt voor veganisten?

Ja, Mag+ is volledig geschikt voor veganisten. Onze tabletten zijn plantaardig en bevatten geen dierlijke producten. We streven ernaar om onze producten toegankelijk te maken voor verschillende dieetwensen.
Maak jouw routine compleet...
Regular price

Sale price

$42.00 USD

Unit price

per

Regular price

Sale price

$37.00 USD

Unit price

per

Regular price

$33.00 USD

Sale price

$33.00 USD

Unit price

per

Regular price

$33.00 USD

Sale price

$33.00 USD

Unit price

per

Regular price

$28.00 USD

Sale price

$22.00 USD

Unit price

per

Regular price

Sale price

$17.00 USD

Unit price

per

Regular price

Sale price

$44.00 USD

Unit price

per

Regular price

$28.00 USD

Sale price

$22.00 USD

Unit price

per

Regular price

$17.00 USD

Sale price

$17.00 USD

Unit price

per

Regular price

$11.00 USD

Sale price

$11.00 USD

Unit price

per

Regular price

$3.00 USD

Sale price

$3.00 USD

Unit price

per