Onze geoptimaliseerde BCAA formule met een 8:1:1 verhouding, met L-Glutamine, Elektrolyten en Vitamine B6, B12 en D, om jou tijdens je training een gezonde boost te geven.
Regular price
$33.00 USD
Sale price
$33.00 USD
Unit price
per
Sale
Sold out
Gratis sample

Bij elke bestelling ontvang je een gratis sample. Selecteer vóór het afrekenen, in je winkelwagen, een gratis sample naar keuze.
Beschrijving

BCAA's bestaan uit drie essentiële aminozuren die je tegenkomt in je voeding ter ondersteuning van je spieropbouw en herstel. Dit maakt een BCAA drink de ideale intra workout drink. Je hebt echter alle aminozuren nodig om spiermassa op te kunnen bouwen, enkel BCAA's zijn niet voldoende en kunnen er zelfs voor zorgen dat je eiwitsynthese verlaagd wordt.
Ingredients

Vegan iBCAA (8.1.1) (L-Leucine, L-Isoleucine, L-Valine), L-Glutamine, Taurine, Zuurteregelaars (citroenzuur, tripotassium citraat), Maltodextrine, kleurstoffen: rode biet (Tropical), beta carotene (Sinaasappel), karamel (Cherry Cola), allura rood (Lollypop), Antiklontermiddel (siliciumdioxide), Kaliumchloride, smaakstof, Zoetstoffen (sucralose, acesulfame K), Natriumchloride, Magnesiumoxide, Calciumcarbonaat, Vitamine B6,
Vitamine D, Vitamine B12.

Voedingswaarden per portie (12,7 g): Energie 175 kJ/42 kcal, Vetten 0,0 g, Waarvan verzadigd 0,0 g, Koolhydraten 0,46 g, Waarvan suikers 0,03 g, Vezels 0,09 g, Eiwitten 9,99 g, Zout 0,15 g, Potassium 77 mg, Magnesium 35 mg, Calcium 19,75 mg, Sodium 19,25 mg, Vitamine B6 1,4 mg, Vitamine D 1,5 ug, Vitamine B12 0,5 ug.

Voedingswaarden per 100 g: Energie 1383 kJ/330 kcal, Vetten 0,0 g, Waarvan verzadigd 0,0 g, Koolhydraten 3,63 g, Waarvan suikers 0,26 g, Vezels 0,73 g, Eiwitten 78,69 g, Zout 1,2 g, Potassium 620 mg, Magnesium 285 mg, Calcium 158 mg, Sodium 155 mg, Vitamine B6 11 mg, Vitamine D 11,8 ug, Vitamine B12 4 ug.

Aminozuurprofiel per portie (12,7 g): L-Leucine 4 g, L-Isoleucine 0,5 g, L-Valine 0,5 g, L-Glutamine 4 g, Taurine 1 g.
Hoe gebruik je mij?

Neem naast je dagelijkse voeding 1 tot 3 keer per dag één schep CHARGE met 300ml water. Lekker voor tijdens én na het sporten.
Shipping & Returns

Bestellingen die op werkdagen vóór 18:00 worden gedaan, proberen wij dezelfde dag nog te verzenden.

De vermelde prijzen zijn exclusief verzendkosten. De verzendkosten bedragen:
€ 6,95 voor bestellingen onder de € 50,-
Gratis voor bestellingen vanaf € 50,-

Levering verloopt via de postbode of pakketbezorger van PostNL. Over het algemeen zal de aflevering de eerstvolgende werkdag tussen 9:00 en 18:00 plaatsvinden. Helaas kunnen wij het moment van aflevering niet garanderen.

We vervangen alleen defecte of beschadigde artikelen. Als je een artikel wilt ruilen tegen hetzelfde artikel, stuur dan een e-mail naar info@greenfuel.shop en stuur het artikel naar Parallelweg 128 A-11, Beverwijk, Noord Holland, 1948NN, Nederland.
View full details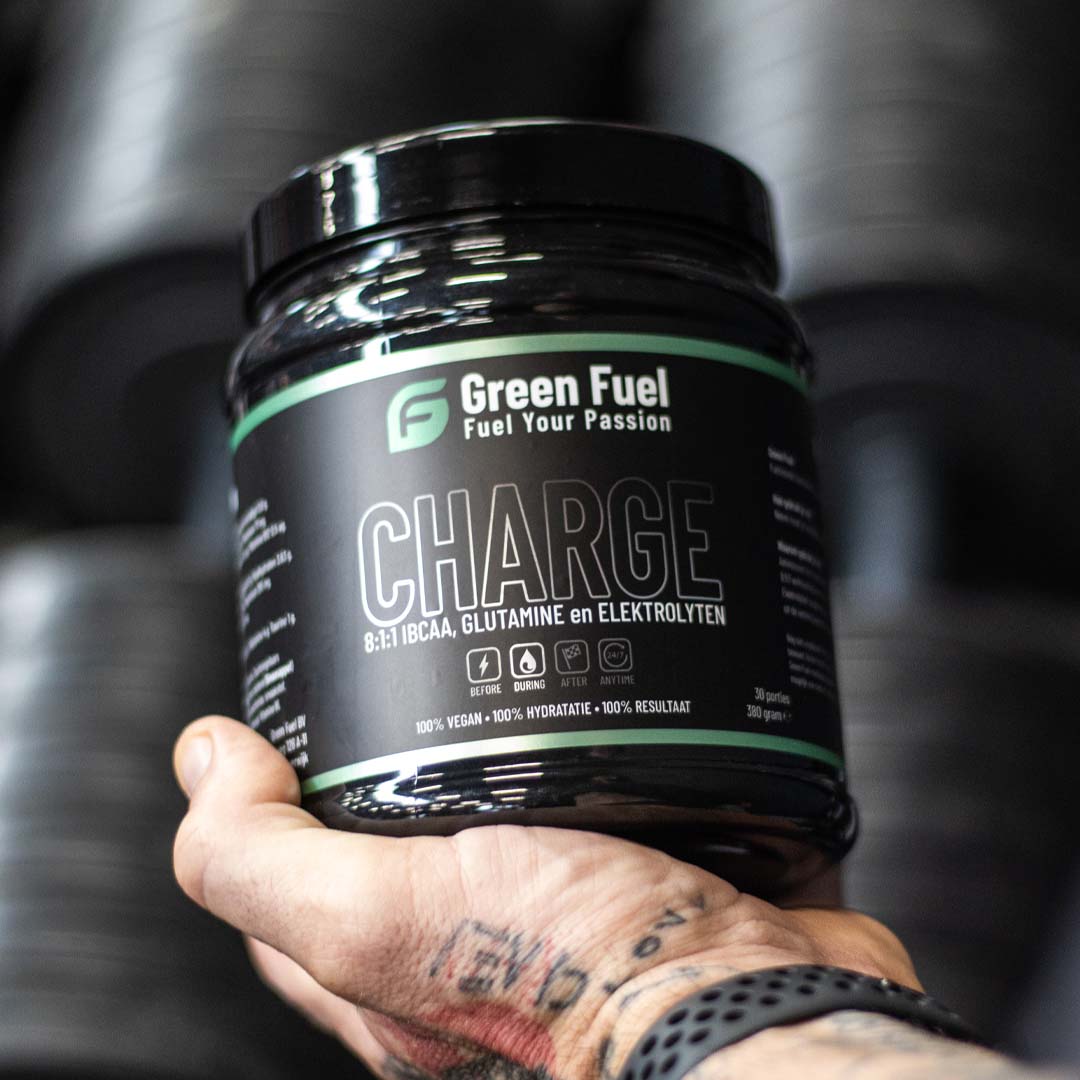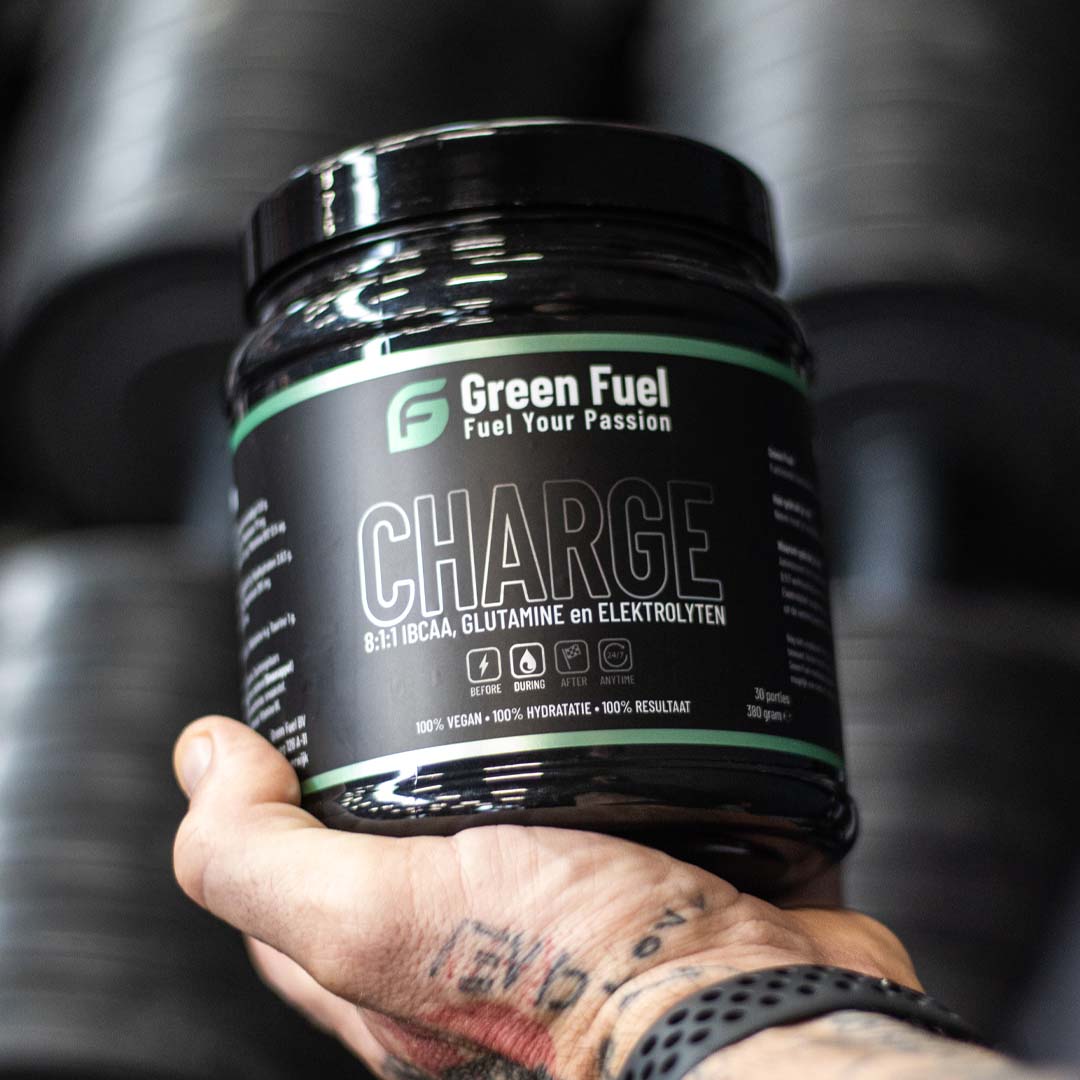 In de wereld van sportvoeding is er een nieuwe ster aan het firmament
Onze BCAA-drank met een 8:1:1 verhouding, verrijkt met elektrolyten, vitamine B6, vitamine B12 en vitamine D.
Meer weten
Veelgestelde vragen
Wat zijn BCAA en waarom zijn ze belangrijk?

BCAA zijn vertakte aminozuren, namelijk leucine, isoleucine en valine. Ze spelen een belangrijke rol bij het bevorderen van spierherstel en -groei na het sporten en kunnen helpen spierafbraak te voorkomen. BCAA kunnen ook helpen bij het verbeteren van de algehele fysieke prestaties en het verminderen van vermoeidheid.
Waarom kiezen voor vegan BCAA?

Vegan BCAA zijn een goede keuze voor mensen die geen dierlijke producten willen gebruiken of die allergisch zijn voor bepaalde dierlijke eiwitten. Vegan BCAA zijn afkomstig van plantaardige bronnen, zoals maïs of erwten, en zijn vrij van kunstmatige kleurstoffen, zoetstoffen en andere additieven.
Waarom elektrolyten toevoegen?

Elektrolyten zijn mineralen zoals natrium, kalium en magnesium, die essentieel zijn voor het handhaven van de vochtbalans en de normale spier- en zenuwfunctie. Tijdens intensieve trainingen verlies je elektrolyten door zweet, en BCAA + Elektrolyten helpt om deze aan te vullen en de hydratatie te behouden.
Wat is de 8:1:1 verhouding?

De 8:1:1 verhouding verwijst naar de verhouding van leucine, isoleucine en valine in het product. Hierbij is leucine de belangrijkste aminozuur, met een hogere concentratie dan de andere twee. Leucine speelt een cruciale rol in het activeren van spiereiwitsynthese.
Maak jouw routine compleet...
Regular price

Sale price

$42.00 USD

Unit price

per

Regular price

Sale price

$37.00 USD

Unit price

per

Regular price

$33.00 USD

Sale price

$33.00 USD

Unit price

per

Regular price

$33.00 USD

Sale price

$33.00 USD

Unit price

per

Regular price

$28.00 USD

Sale price

$22.00 USD

Unit price

per

Regular price

Sale price

$17.00 USD

Unit price

per

Regular price

Sale price

$44.00 USD

Unit price

per

Regular price

$28.00 USD

Sale price

$22.00 USD

Unit price

per

Regular price

$17.00 USD

Sale price

$17.00 USD

Unit price

per

Regular price

$11.00 USD

Sale price

$11.00 USD

Unit price

per

Regular price

$3.00 USD

Sale price

$3.00 USD

Unit price

per